Metal Braces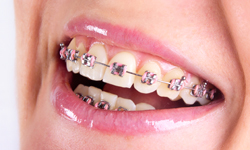 Metal braces are smaller and more comfortable today than ever before. Made of high-grade stainless steel, metal braces straighten your teeth using high-tech archwires. With metal braces, you have the option of adding colored elastic ties for a more unique and colorful smile. Our metal braces are smaller and more hygienic than others on the market.
Self-Ligating Braces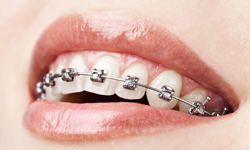 Self-ligating braces are made from the same materials as traditional braces. However, self-ligating braces do not require the use of elastic ties, and therefore are not normally used with colored ties. Self-ligating braces come in traditional metal or clear. They use a specialized gate in place of elastic ties to hold the archwire in place. We have extensive experience with both the Damon System (Damon Braces) and the Pitts System (Pitts Braces).
Clear Braces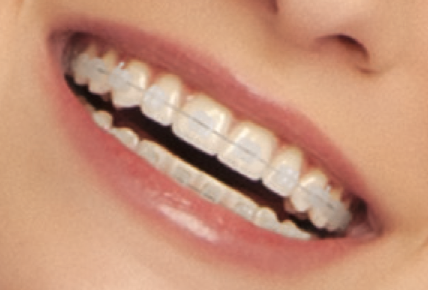 Clear braces are made of ceramic materials and are therefore less visible on your teeth than metal braces. We mainly use 3M Clarity Advanced brackets, because we feel they are the most esthetic and highest quality clear brackets on the market.
Aligners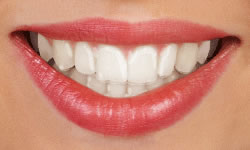 Aligners are a series of invisible, removable plastic trays that straighten your teeth like braces. Since they are removable, you can eat and drink what you want while in treatment, plus brushing and flossing are easier. Aligners are comfortable and have no metal to cause mouth abrasions during treatment. We are very experienced with Invisalign and also use a state-of-the-art in-house aligner system that allows us to deliver your aligners within days instead of several weeks. The cost of our in-house system is also very reasonable, so you can get the benefits of receiving high-quality care from a board-certified orthodontist for often the same cost as the mail-order companies you see on TV.
Lingual Braces
Lingual braces are braces placed on the back side of the teeth, so they are truly invisible. You can floss normally and don't have to remember to wear aligners. We use the INBRACE system. Check it out at www.inbrace.com.